Great Sand Dunes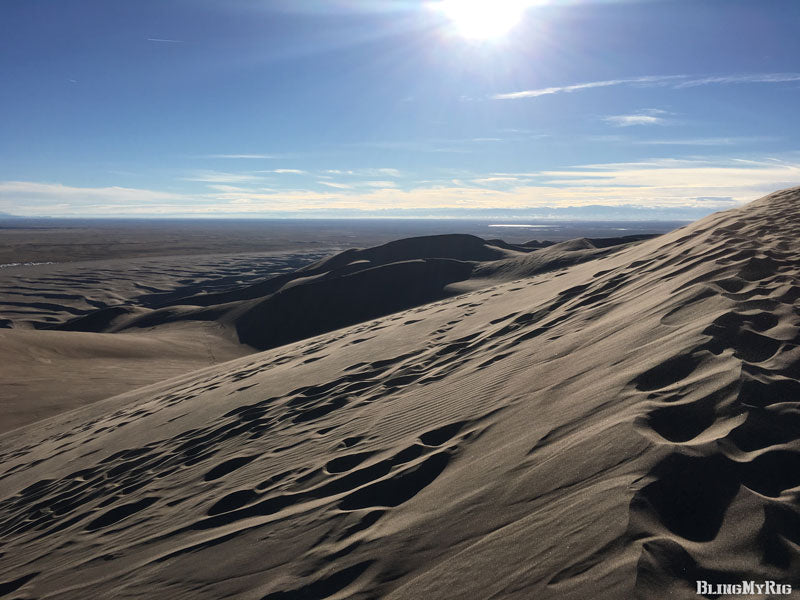 Last night we stayed in the town of Taos, and in the morning, we said our goodbyes to Shrekkie.
We've had a great time hanging and skiing with Shrekkie the past (nearly) two weeks. We were all hoping to do more of the tour together, but he had to cut the trip short to attend to some business back home.
We will miss Shrekkie with his positive attitude and hilarious one-liners. He always kept us laughing, even in the heavy moments. The first time I got really emotional when talking about my Daddy, he was really quiet. When he finally spoke, he was very serious. "Hey, sorry guys. I'm a cop. I can't go there with the emotions unless I'm trying to get a confession." Man, did that crack us up!
Shrekkie's been a vegetarian for many years, and he's in good shape and eats well. When 1der and I were chowing down on a hunk of animal protein after a hard day of skiing at Telluride, he comes out with this one when asked if he misses meat: "yeah, sometimes I think about sinking my teeth into a pig's ass, but it won't happen." I'm laughing just writing this!!!
Shrekkie's the kind of guy you want to have as a friend: positive and upbeat, easy-going, gracious, kind, reliable, funny, a great person, and most importantly, he loves to ski! Sharing the last couple weeks with him has made the trip extra special, and we look forward to seeing him again and meeting his wife and one of his sons in a few days on our way to Boulder.
Thank you, Shrekkie, for your friendship, and most especially for letting us use your shower at every place you've stayed. Much appreciate it!
*************************
We cut our stay in Taos short by a day as the snow just wasn't compelling enough for 1der to ski another day. I would have gone, but 1der needed a much deserved break after yesterday's harrowing fall.
We looked at the map and decided to stop at Great Sand Dunes National Park and Preserve on our way to Boulder.
We've never been here — the tallest dunes in North America that lie in the San Luis Valley, just west of the Sangre De Cristo Mountains. The park is located in Southern Colorado, and it's such a unique and diverse landscape with amazing sand dunes that abut right up against majestic, snow-covered mountain peaks. It actually snows on the dunes, but it was dry during our visit.
The drive from New Mexico to Colorado was stunning, and the long views of Taos Ski Valley tugged at my soul.
We were very excited to pull over at the "border crossing" - excellent turnout and signage!
Bananas Chimpos wanted to get in on the sign action.
Beastie wanted in too!
And so did Bananas Chimpos' "Gnome," which was brought all the way, actually as part of a cereal box (with cereal!), to Alta from North Carolina by Mike. The "Gnome" might look familiar if you've ever eaten Choco Chimps (gluten free, Baby!) And if you don't find this to be Hi-Larious, well then I guess you "had to be there."
About eight miles before entering the Park, we drove 3.5 miles up a dirt road to the Zapata Falls campground to hike to the Falls and camp for the night.
This was a real treat, as we had a spectacular campsite all to ourselves (almost... more on that later) with amazing views of the San Luis Valley.
The spectacular, frozen Zapata Falls. The image on the left is entry / rock crevasse into the falls.
We donned our snowboots and did a short hike in the snow to Zapata Falls. Outside of winter, one has to wade into a stream and navigate slippery rocks into a rock crevasse to see / access the Falls. For us, we just had to very carefully walk on ice. 😱
We had a wonderful, quiet evening at the campsite and went to bed early. In other words, a peaceful slumber in Nowhere's-Ville. NOT!!!
It was well after midnight when suddenly, a vehicle pulled right up to Beastie. We shot up from a deep, dreamy sleep and looked out the poptop window, shocked to see an SUV backing right up into Beastie's rear. Within seconds, the driver floored the gas and took off down the dirt road.
Our hearts were racing. What the you-know-what was that all about? Were we going to get ambushed by a bunch of drunken heathens who drove nearly four miles up a dirt road in the middle of the night to rob us or do much worse? We were now wide awake and extremely concerned. This is the first time, at least for me, I have feared for our safety while in Beastie.
We listened intently as we heard them re-enter the campground. We weren't sure what to think. Were they coming back? Did they have friends coming to join them? They stopped at the lower part of the campground and pulled into a site. Music was blaring from their car, and two people, a man and a woman, were talking loudly. Their dog was running around and barking. Great. Not exactly what you would classify as considerate, classy people.
1der got out the binoculars and was able to see them unloading their car. We were concerned more people were coming, and if their friends behaved the same, this could mean trouble. For 30 minutes, we laid awake, listening and watching. Eventually they settled in for the evening and we went back to sleep. What a bunch of freak'n inconsiderate, rude jerks. They ruined what would've been a super peaceful, serene evening. They also ruined the morning, as they were back at it, making a bunch of noise when they woke up.
1der took a walk down to them to find out what the heck happened. Turns out they didn't see us — were they that freak'n drunk??? And blind??? COULDN'T SEE US? Seriously? With the top popped up and all? It's not like we're running around / camping in a Smart Car!!! Helllooooo!!! 
When they backed up into our site and finally saw us, they got scared and hit the gas. Yet after all the commotion they caused, you'd think they would be considerate enough to speak in quiet voices and not disturb the serenity of the campground and their neighbors that they clearly knew were present. Like I said, freak'n inconsiderate, rude jerks. 1der was very nice to them; it would have been a different story if it were me who spoke with them...
*************************
We drove to the park and set off for a 3.5 to four mile round trip hike up to High Dune, the first dune on the ridge. In some ways, hiking these dunes are like hiking in the Grand Canyon. In the summer, you want to start your hike very early in morning or in the evening to avoid the deadly 150° F /66° C temperature of the dunes. Since it was in the mid 40's, we didn't have to worry about heat.
There are no trails, so you can go anywhere you want. This is a good thing and a very bad thing, especially for this guy, who was lost for five days in the Dunes and was extremely lucky to be rescued. They just found him yesterday!
We took our own route and trudged up the 700 feet of elevation gain and made it to the summit of High Dune in about an hour or so. It was tough to hike up the sand as one has to deal with slippage and sinkage with every step.
Getting to the top was so cool, figuratively and literally, as the wind was blowing and it was cooold. The 360 degree views from the top were spectacular.
We actually delayed the hike's start time to later in the day so we could get "magic hour" lighting.
Here's the view coming down the dune.
We had tons of fun coming down. Some people brought snowboards and others who rented sandboards to glide down the hill. We brought our own equipment...
Great Sand Dunes is a SUPER cool place, and we highly recommend a visit for everyone of all ages. We loved it and learned so much about this truly unique and extremely diverse landscape.
One of the things we love about our Beastie Adventures is the freedom to go exploring. We've discovered the coolest places "by accident."
Hurry! Pack, Bling Your Rig, and get here as fast as you can!
---
Leave a comment
Comments will be approved for public display.