Jackson Hole Tram & Corbets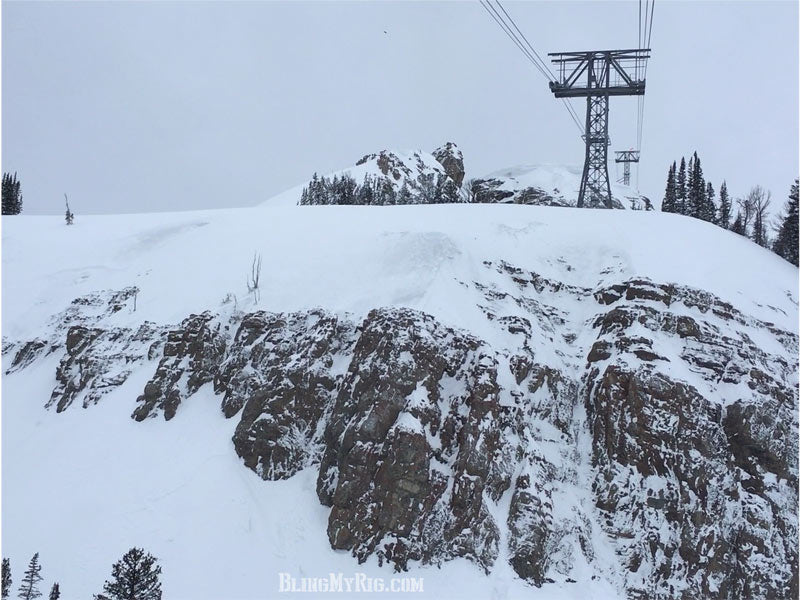 Since joining the Sportsmobile forum (aka "the forum") a few years ago, 1der has met some really cool people (he has several bromances with a few members), and we've enjoyed meeting up with these fellow cult members.
Before leaving on our trip, 1der posted our plans on the forum and set the "bait:" if anyone happens to be in the same areas at the same time, it would be great to meet up." Well on our second day here, we got a tug on the line.
It was great to meet danhtran1143 and his family, who drove about 18 hours in his rig to get here. We skied a couple runs with him / them, and 1der met up with them for some after dinner beers.
Two days ago, we went up with them – via the famed tram – to the top.
We wanted to ski Corbet's Coulior, but unfortunately it was closed, so we were super bummed we couldn't conquer it. Yeah right – taking that "run" would mean instant death, and I'm not kidding.
We skied over to a ledge which enabled us to see the initial descent from a side-view. In case you're wondering why I didn't ski over to the actual entry and peer over the edge, it's because it was roped off. Otherwise I would have. Wadda think I am, insane?
Check out the entry into Corbet's Couloir. It's nearly vertical, and you can see it's a total cruiser with plenty of room to make multiple turns without having to contend with any obstacles. Haha!
Ah.... can we say pure insanity? Anyone who is remotely thinking about skiing that "run" better have phenomenal health insurance and a high-payout life insurance policy in place. I'm totally serious. Google this if you think I'm haha'ing or just kidding.
The official statement from Jackson Hole: Corbet's degree of steepness is nearly vertical at the top, thus creating the need to jump into the couloir. The slope then 'flattens' to 50 degrees. The overall average steepness is 40 degrees."
From Wikipedia: It is about ten feet wide at the entrance with rock faces on three sides, but opens up quickly. Entrance into the couloir requires dropping off a cornice with a free fall ranging from 10 to 20 feet (6.1 m) depending upon snow conditions and exactly where the skier chooses to drop in, landing in the fairly narrow couloir with rock walls on either side.
After our incredible brave display of courage (by whimping out and hiking up an incline to get the side-view), we turned around from our vantage-point and made our way to the main run.
Those little dots that look like people (wearing a blue jacket) are actually 1der and the others.
We skied from the top to the bottom, and unfortunately, our day and time with danhtran1143 was too short, as they were at the tail-end of their trip and wanted to leave Jackson a half a day earlier than planned to get a head start on their very long drive back to the Bay Area. We hope to meet up with them next time.
And ski Corbet's. NOT!
*********
Online dating leads to a bromance...
Last year while we were in Jackson Hole, we got together with shenrie (one of 1ders online bromances from the forum) and his long-time friends who live in Boise and other areas of Idaho. They have gathered every year for the past several decades to free-ride the terrain off the Teton Pass. They rent a house for the weekend in Victor, ID and spend their days piling into shenrie's rig (and another pickup truck) and taking turns being the shuttle driver while everyone else jumps off and rides to the bottom.
These guys look as tough as nails, but they're all sweethearts. This pic is from last year's "boys weekend."
It was luck that last year our schedules overlapped, and we had the pleasure of spending time with shenrie and his buds, who are all super nice guys. And it just so happened that this year, our schedules overlapped again, and since we are hanging out in Jackson for several days, we took a day off.
Instead of skiing, I broke out my snowshoes and went for a nice stroll up the same road that serves as the exit route for the guys after they ride the hill.
Trailhead for the Teton Pass Trail
It was a beautiful jaunt, and except for a few walkers and an occasional boarder or skier who passed me, I was all alone. On a side-note, one could simply walk up the path a short distance, but it wasn't long before the snow was too deep to navigate without snowshoes.
At one point, I saw some boarders coming down the "road." One of them enthusiastically said hello. It was one of the guys!
The guys ready to shuttle back up the hill after making a run. 1der offered to be their chauffeur so they could all ride at once.
I loved to see the light and shadows on the snow. The simple and elegant beauty of the winter shadows of barren trees reminded me of under-stated Japanese woodblock prints. The imagery was a stamp in time: when the clouds came, the shadows disappeared, and when it cleared, the shadows were different from before. Standing in one place for two minutes provided a unique window into the ever-changing winter.
I was snowshoeing along when I randomly stopped to look around. Prior to this stop, I always looked forward and down, but this time, I decided to look up.
What is this?
It's a bird's nest with snow on the roof! So cool...
I could not have planned this, nor could I have found it again, for when I turned around much further down the path and made my way back, I was not able to see nor find this again. I love it when happenstance events like this occur.
The turn-around point.
The lesson here: always remember to look up!
---
Leave a comment
Comments will be approved for public display.
---
Also in Ski Bumming, 2017