Jackson Hole, Part Deux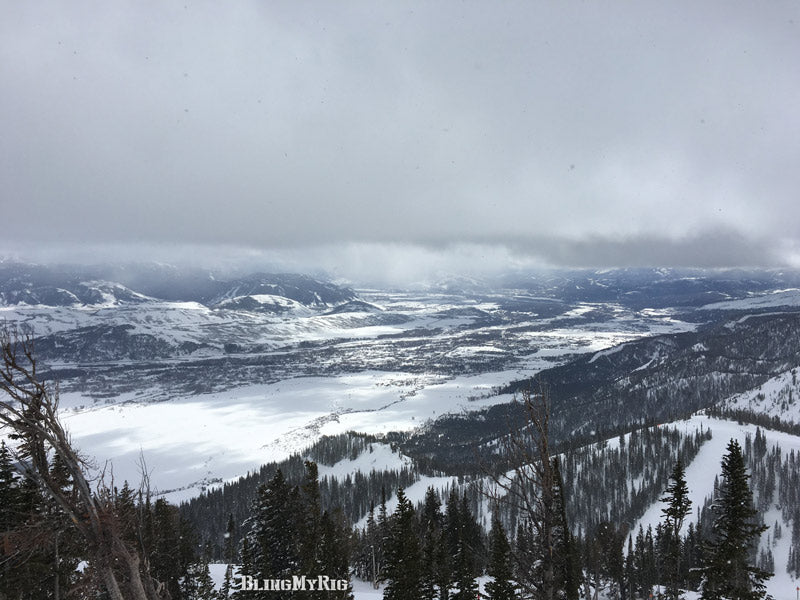 From Google: "The Presidio, a 1,500-acre park on a former military post, is a major outdoor recreation hub. It has forested areas, miles of trails, a golf course and scenic overlooks. Other highlights include grassy Crissy Field with Golden Gate Bridge views, Civil War–era Fort Point and sandy Baker Beach. Historic buildings house the Walt Disney Family Museum, eateries, homes and businesses like Lucasfilm, with its Yoda Fountain." ↩
It's a very easy walk (especially when you're not in ski boots and carrying skis and poles) from the Fireside RV park to the bus stop in front of Calico pizza. From here, we catch the bus to the mountain, and since Calico is the last stop on the way to Teton Village, it's super easy and quick. Driving is not an option; it costs $25 / day to park (!)
The view from the mountain is spectacular. Luckily the storm cleared overnight, and we were gifted with about eight inches of fresh snow.
Because of our ski bumming days here last year, we are very familiar with the mountain and headed straight over to our favorite run: the trees to the skier-right of Bivouac. To get there, we dropped into to Cheyenne bowl with the hopes of hitting some fresh powder. Not! Instead we found ourselves in "Sierra Cement," aka heavy, thick mash potatoes that make it very difficult to navigate and turn. This crud is really hard on the legs. Thigh-burn City. We were anxious to get into the trees where we hoped the snow would be lighter.
Luckily, we were rewarded with better snow in the trees, and we ran the pitch over and over to practice all the great tips given to us by our ski instructor friends in Telluride. But the pitch is steeper, the space between the trees is more narrow, and the bumps are a lot bigger than what we hit in Telluride, so it was really great to be able to navigate them a little easier than last year.
There is one downside to skiing Jackson: arriving any time after (what we think to be) mid-January means icy conditions on the entire lower part of the mountain. This is a bummer, because this means skiing the Hobacks would suck, and the Hobacks are definitely a place I want to explore (especially since they are Ron and Patsy's favorite). Our next trip to JH will be planned around a stop-over in January. Hobacks, here we come!
*******************
One of the really cool things we love about traveling is meeting new friends along the way. One of the really cool things about ski bumming in 2017 is reuniting with friends we met while ski bumming in 2016.
Case in point:
Last year while in Jackson, we took a day off from skiing and spent the day exploring Victor, Idaho and the surrounding area. We stopped for dinner at a very highly rated rib joint, and while looking at the menu, I was checking out the ribs being consumed by a couple at a nearby table. After asking if the ribs were good, we continued to chat and learned the hubby used to live in the Presidio[1] years ago while serving in the Army. L and F were super nice, and we were fascinated by their story of how they met while working as contractors in Iraq.
I especially loved the part when L said she fell in love with F after he saved her life: they were hanging out one night when a bomb went off nearby. He jumped up and covered her body with his in order to protect her from the explosion. Now how romantic is that? Luckily neither of them were hurt.
L and F were so gracious, they even invited us to stay at their house if we didn't have accommodations (we were already set). Virtual complete strangers inviting us into their homes. They were super nice, and clearly they have no idea how crazy we are...
Fast-forward to 2017:
About two weeks ago, Jackson was hit with a massive storm that had us really worried. The storm was epic – the mountain was closed for five days, 17 (!) huge power lines went down, and the town was literally falling apart (the Sheriff's office building was collapsing, and the Sears building is toast). Were the residents okay? How was this going to affect our stay? How did this impact L and F, especially since they had to navigate the Teton pass every day to go to work?
Luckily, all turned out okay for them, the town, the mountain and... our scheduled arrival.
Last night we had dinner together (this time sitting together at the same table 😊, and it was great to see them again and meet their newest addition – F's "mini me." Their son is SUPER cute, and it was wonderful to see L so, so happy. We look forward to getting together next year and seeing how much their son will have grown and changed.
The mini-me. What a cutie!
---
Leave a comment
Comments will be approved for public display.