Telluride, Part Deux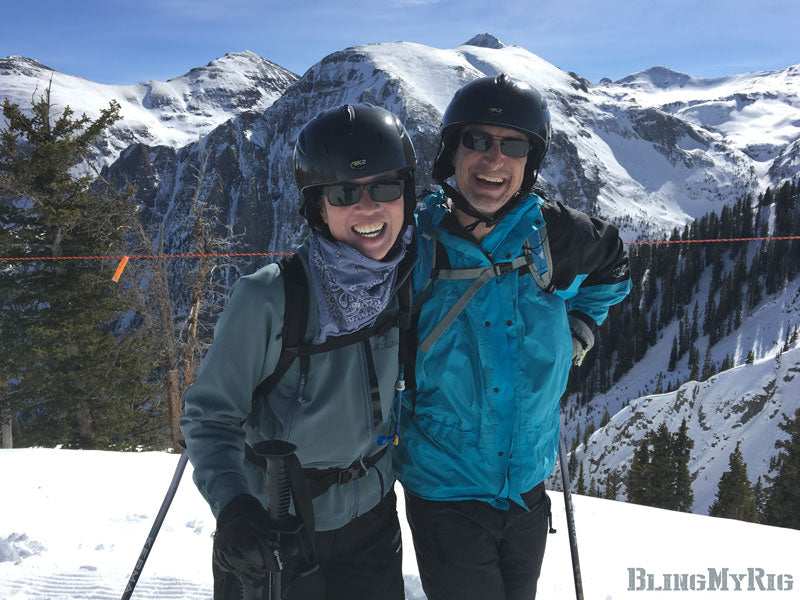 Last November, when we were camping in Sequoia / Kings Canyon, I went for a hike. 1der stayed behind to take a nap in Beastie, and I set off on the trail by myself for a quick jaunt into the vast and quiet forest. The plan was to be gone for only an hour or so and to go only a short distance.
However, something inside me wanted to press on and make it to a small lake and complete the loop. As I was about 3/4's of the way up, I saw movement further up the trail — humans! Two people were making their way down, and I was thinking, "what are these people doing on my trail?" Not really, though I was surprised to see other people since we did not see another vehicle or person(s) in any of the parking areas, roads or nearby campgrounds.
We stopped to chat when we converged on the trail. They were a very nice couple, and it turns out they were from Telluride, where they have lived and worked the mountain for many decades. I got excited when I learned this, because I love Telluride and told them we were going there on our 2017 Mountain Collective tour. On a side note, when we bought our MC passes last April, Telluride was not included. It was added several months later, and we were super stoked with this added bonus.
And on another side note, this couple were the owners of a really cool rig we had been admiring in the prior days when we saw it at another campground. They had seen Beastie as well, and I looked forward to them meeting 1der as I knew he would like them and enjoy "talking shop."
We exchanged information, and I texted them a few times in the following months to say hello and wish them happy holidays. I figured the chances of seeing them in Telluride were 50 / 50 because, well, you never know. Anything could happen, right?
I emailed them our first morning on the slopes, and I was ecstatic when they texted back and said they would love to meet us on the mountain. Since the weather was warm and conditions were spring-like, their "crack of noon" 😂 meeting time was perfect.
Our consummate mountain guides and hosts
To say that Ron and Patsy are fantastic skiers and the most gracious mountain hosts / guides would be the understatements of the century. For the next three days, they took us all over the mountain, to their favorite runs in the trees and gullies, to "secret" stashes of good snow, to the where the locals ski. Shrekkie, 1der and I were blown away by their skiing abilities and willingness to share their beloved mountain.
We met some of their friends, who were just as kind and fantastic skiers as well. We were amazed by one of their friends, Dave, who met up with us for two out of the three afternoons. Dave was a speed skier / racer. Speed as in 128 mph fast. When was the last time you drove 128 mph, let alone skied that fast??? Watching this guy carve and bomb down the mountain was like watching Baryshnikov gliding about the stage — smooth, graceful and effortless.
We're very happy Shrekkie was able to be part of this amazing experience!
So. Much. Fun.. If I loved Telluride before, this is now profound love and lust. I love skiing the trees, and Telluride's tree skiing is matched by no other (that I have yet to find). To have explored and have the mountain unveiled in this fashion was truly magical, and if this wasn't enough, Ron and Patsy, both ski teachers of the highest levels (Ron - Level III; Patsy - Level II) gave us fantastic pointers and tips. For me and 1der, Ron and Patsy's gifts and the terrain we skied were the next stage of lessons from where we left off with T-Bone in Aspen.
The fun continued every night with wonderful dinners with Jim, Ron and Patsy. Jim discovered this cool place with good food, reasonable prices and (so I'm told since I don't partake...) tasty beers. We spent hours talking with Ron and Patsy, sharing stories and getting to know them better. They are awesome people; the kind of people we love to meet: humble, kind, gentle, grounded, with a deep love of the mountains and skiing. Their personal histories are fascinating and rich with experiences.
You know what I'm going to say next: that's right, more of Life's Magic Dance. Did I mention I have a vision that I've written to guide my life and my thoughts? And you're correct: the title of my vision is Life's Magic Dance, and it's posted prominently on the refrigerator at home so I see it every day. The first sentence reads I am lucky, and wonderful things happen to me every day.
Even as I write this, I am tickled and humbled by the wonder of it all.
The mountains surrounding the ski area are so majestic and imposing. Phenomenal scenery, phenomenal mountain.
Thank you, Patsy, for pointing out Wilson Peak (14,023feet / 4,274 m). If this looks familiar, think Coors beer commercials and ads. If you thought those commercials were using a fake scene, think again.
Look closely: see the furthest mountains way in the background? They are in Utah!
---
Leave a comment
Comments will be approved for public display.