Moab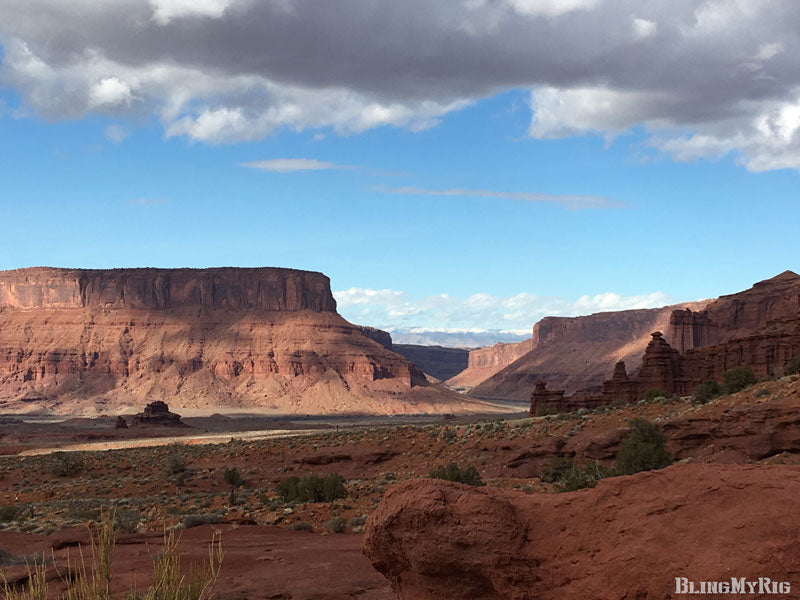 A day at Snowbird was not meant to be.
Yesterday we drove up Little Cottonwood Canyon and pulled into the parking lot at Alta (the plan was to hit Snowbird via the access gate at the top of Alta). It was basically a white-out, but I was ready to hit the slopes. 1der wanted to sit it out.
And then I opened the door. I was pelted with snow. I was pushed by the gale force winds. I shut the door. I said, "no frick'n way." And that was that. Snowbird will have to wait.
So what to do with this extra day? We called our friend in Aspen to confirm our arrival details for the following night. We told him about the weather, and he had a fantastic suggestion: hit Moab on the way to Aspen! Done deal, we're outta here... So off to Moab we went.
It was a beautiful drive, and we arrived around 5:30pm. We were very excited with this "diversion," as this was the first time visiting for 1der, and a reunion for me.
Beastie wanted to stop and enjoy the views. Everything is picturesque in Moab.
The last time I was here was many years ago, and I spent about five weeks in Moab producing a crazy aerial stunt off of "The Rectory", right near Castleton Tower. Jose Tejada, who now owns Sheri Griffith Expeditions, Moab's premier river rafting company, was my production coordinator, and we were going to see him after all these years.
We met Jose at the Moab Brewery, and it was so great to see him. He hasn't changed a bit; his deep voice and warm smile were exactly as I remembered him. Jose and I spent a lot of time together on that shoot, and what I've always liked about him is his realness. Everything about Jose is just Jose.
We were also very pleased to meet Jose's very nice and equally down-to-earth wife, and they graciously allowed us to stay overnight on the grounds of their lovely home. I was thrilled 1der had a chance to get to know them better over breakfast with fresh eggs from their chickens in the backyard.
Before we knew it, it was time to hit the road and say our goodbyes. We really hope to see them in San Francisco, though we've been warned it would be a challenge to get Jose to the City. I can understand why: after living for over 30 years in God's Country, why would one want to go to a City ???
Our wonderful hosts recommended we take the River Route out of town and stop at Fisher Towers for a hike and fantastic, long views of The Rectory and Castleton Tower.
We stopped for lunch at the trailhead parking lot, and this is what we saw when we opened the door.
The views from our hike did not disappoint. If they did, one would need to get their head (and eyes) examined...
The drive along the river was beautiful, and I recounted to 1der the amazing gift I was given when I was producing that stunt. My experience and view of Moab is so unique: my daily commute consisted of flying in helicopters, following the river and flying right up close / next to so many of the towers. My "office" was on top of the Rectory!
Prior to our visit, my last experience in Moab was with Jose, about two years after we worked together. He took me on a three-day private river rafting trip. This too was an amazing gift, and I will be forever grateful to Jose for this and his friendship all those years ago. Thank you, Jose!
Our last photo of Moab as we were driving away on the River Route. If you're ever driving from Moab to Aspen (or anywhere, for that matter), definitely take this route.
A caveat (which is not meant to be assuming or patronizing): We simply want to point out what's happening with / in Moab. Over the years, it's been over-run by so many tourists and those on a take-no-prisioners mission to capture their ultimate social media moment in areas protected to be left pristine. As a result, the town and the land have been adversely affected. So who has the right to go there, or any public land, for that matter? The land belongs to all of us, and it's up to each person, regardless of age or culture, to respect and revere it, obey the laws, and to keep it pristine for themselves, everyone else, and the future.

P.S. Jose didn't ask or tell me to write this.
---
Leave a comment
Comments will be approved for public display.