Mammoth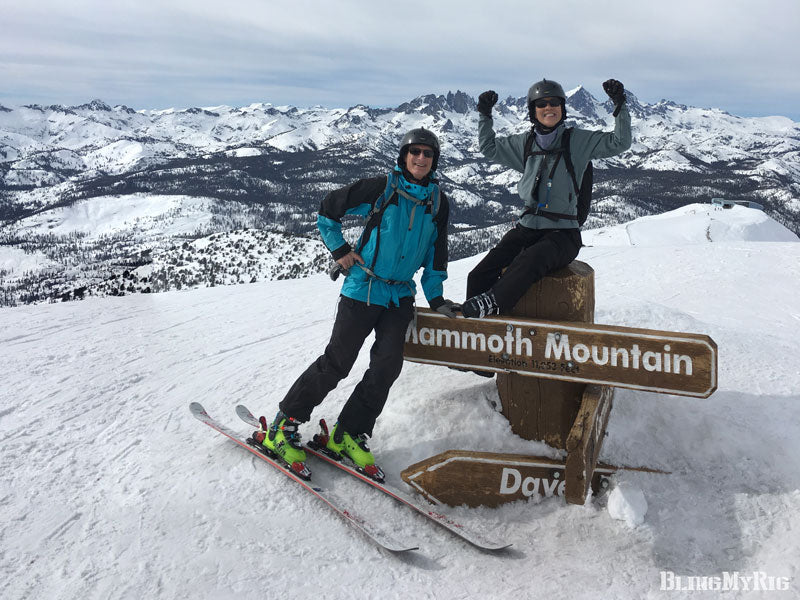 There comes a time in life when one must choose between an office and a ski slope...
Our second-annual Mountain Collective ski tour was slated to begin with a 5am San Francisco departure on January 27th. This departure date was 12 days earlier than last year's tour departure, with the hopes of having better snow throughout the trip and solving a boot dilemma...
Normally our first stop would have been Alta / Snowbird, but due to last year's boot explosion (for 1der), we decided to start our tour in Mammoth so we could patronize our favorite ski and boot shop - Footloose Sports. My foot had grown and my old boots were too small, so I needed new boots. And 1der needed yet another tweak on the boots he had to buy at Alta last year when his old boots blew up on the second run of the day on the first day of the tour.
Many of you already know the horrible drama he had with the new, super expensive boots. For those who don't, you only need to know one thing: the boots and the "custom fit" job provided by the Alta Mountain ski shop TOTALLY SUCKED. It was such a bummer to be on this awesome, five-week ski trip, and have new, custom-fitted boots that hurt, put his foot to sleep within five minutes of putting it on, and having little control on the ski.
And the best part? He had the pleasure (NOT!) of paying more than full retail. The amount would make you choke. In case you're asking for my / our opinion about buying "custom-fit" boots at the Alta Ski Area... my response is not printable in a family website. So there. sorry Alta, but the truth hurts.
When we returned to Mammoth (for the third time last year - I couldn't stay away!), 1der went to Footloose, and the techs did everything they could to undo the ridiculous things the Alta shop had done originally. Finally, on the last run of the season, after 22 days on the slopes, many of which were spent in pain or simply quitting after a couple runs, 1der felt "just okay" about the boots. But okay is a whole lot better than "f'ing sucks." I digress...
Boot Explosion 2016 - 1der's boots on the second run of the first day of our five-week ski tour
Back to leaving SF at 5am...
As always, we had a million things to attend to before leaving, so we we didn't actually leave until 12:30 pm. This normally would've been a good departure time, but this now meant we had exactly 7.5 hours to get to Footloose in time for me to get fitted for a pair of demo boots for the next day. We hit a ton of traffic in numerous places, so it was a nerve-wracking drive as we saw the GPS's arrival time move closer and closer to 9pm, Footloose's closing time.
We arrived at 8:40pm, and the amazing crew at FL agreed to fit me into the first of two pairs of boots I would demo over the next two days. They stayed late, got me fitted and did a binding adjustment. We finished around 9:30. Many, many thanks to the awesome crew at Footloose!
***********************
The town of Mammoth Lakes has been hit so hard by all the storms, it was truly shocking to see how much snow has accumulated in such a short time. One can only imagine the challenges everyone and all the businesses are faced with in having to deal with so much snow. Employment opportunities abound — snow shovelers wanted everywhere!
I was so focused on getting my boots dialed in, I didn't take any images of the town buried in snow. The only images I took were of the parking lot and walk-way at my cousin's condo complex. I don't have before and afters, but imagine how much work it was (and is) to keep the walkways navigable and the parking lot cleared. As it was, the parking lot was a mess, and probably 70% of the spaces were lost.
The parking lot at Sherwin Villas, Mammoth Lakes. Nearly 70% of all the parking spaces have been eliminated due to the amount of snow.
The walkways into the condo. You can only imagine how dangerous and treacherous it was to move in our gear. Too bad there isn't a reference point to show just how high are the walls of snow — at least seven feet. You can see the scrape marks from the shoveling by hand. Anyone want that job???
Thank goodness for all the snow; great for the drought, and great for skiing.
On a side note, the only way we could be ski bums is because of the Mountain Collective pass. We bought it last April right when it came out for the 2016-17 ski season. What a bahgan, Dahling - $379!!!
---
Leave a comment
Comments will be approved for public display.