Aspen to Telluride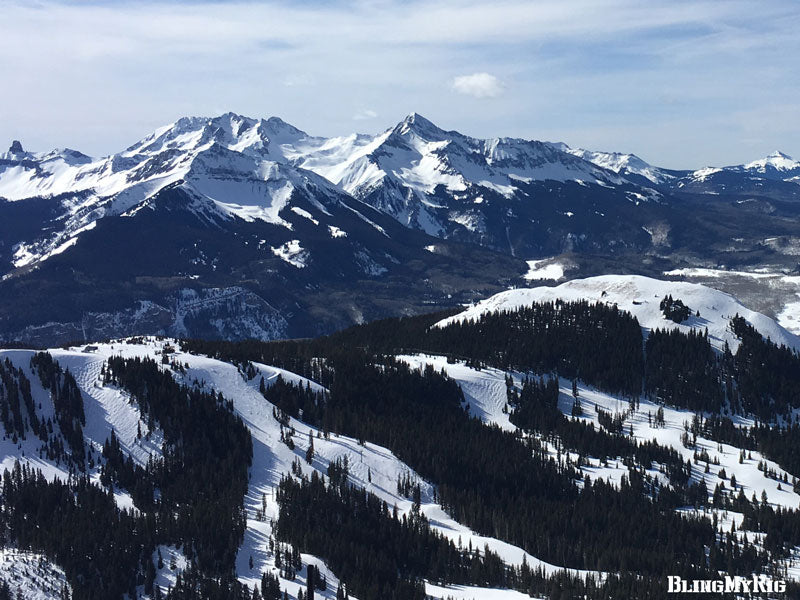 Awakened, Awoken, Potatoes, Pahtatoes, let's call the whole thing off! I spent a bit of time contemplating whether to use awakened or awoken, and I thought your inner-grammarian might find this to be very interesting, and it might even make you laugh...
Today was a travel day. We had the option of skiing one more day at Aspen, and while it was extremely tempting, it was storming a bit, and a day spent skiing meant a very late arrival in Telluride. We elected to hit the road during daylight and have a safe journey.
Shrekkie already departed for Telluride earlier in the morning, so we spent a carefree day driving 200 beautiful miles to our next ski-obsession destination. The drive through the McClure Pass was spectacular. We ascended up a canyon and experienced a long, gradual descent into the Uncompahgre Valley.
To see the changes in landscape and have sweeping views of Grand Mesa, Black Canyon and the San Juan Mountains revealed during the descent (into the valley) was breathtaking.
Several hours into the four-hour journey, with the warm winter sun streaming through the dashboard, I was lulled to sleep. Eventually 1der needed to pull over to rest, and I was gently awoken[1] by Beastie stopping and a cacophony of moo's. Yes, moo's.
1der surprised me by pulling off onto a rural road and stopping across from muddy pasture full of cows. I was so excited! I grabbed my camera and jumped out to go visit these cool moo-cows that were congregated together and moving about the mud. I LOVED the short time we spent here. Thank you, 1der!
We arrived in Telluride around 6 pm and spent most of the evening figuring out where to camp / boondock for the night. Telluride is a really cool, small, charmingly quaint town with very strict, no overnight camping rules. So even though we found a lot that allowed 72-hour overnight parking (which, btw, does not mean overnight camping), we knew we couldn't "stealth" it — a quick recon of several parked vans and campers revealed they all had permit stickers. We felt no one was sleeping in their vehicles since the lot is patrolled
Of all the places we are visiting on this trip, Telluride was going to be our most challenging place to boondock. So off we went, and luckily, we found a "secret" boondocking spot that served us well for the duration of our stay.
And for those who are wondering, Shrekkie so graciously offered his AirBnB place for nightly showers. Did you really think we wouldn't be taking a shower every night while living in the Beast for six weeks? C'mon now...
---
Leave a comment
Comments will be approved for public display.