Aspen, Part Trois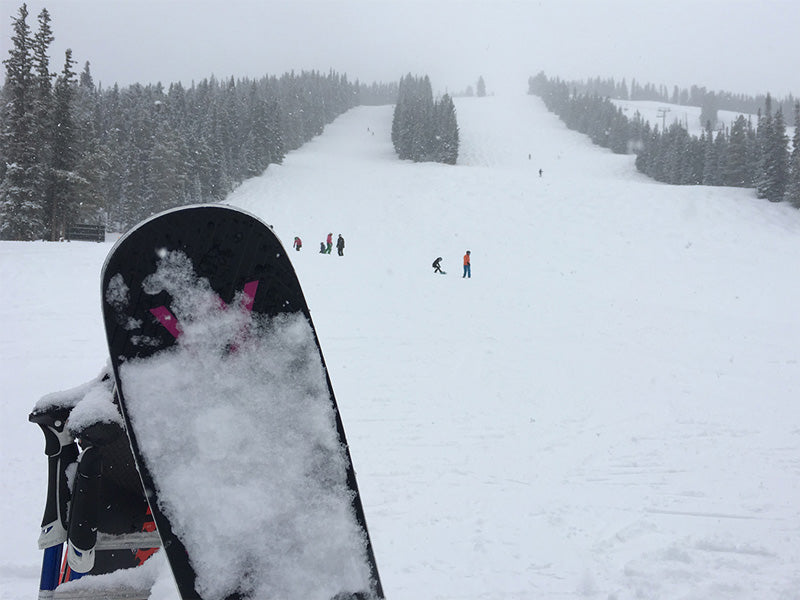 We LOVE Aspen Highlands! Not only is the snow much better than Ajax, the vibe is much more chilled and relaxed, and the terrain is awesome. From their website: "Of the four mountains, Aspen Highlands avoids the spotlight, which is perfectly fine with the locals and in-the-know skiers and riders who tackle its uncrowded slopes. Hike the ridge to Highland Bowl for the sweetest run of your life, or simply cruise along the mid-mountain groomers off the Cloud Nine chairlift. Views over the valley to the snow-covered Maroon Bells constantly will remind you: this is Colorado at its best." We wholeheartedly agree.
It was snowing and cold today. I skied, 1der sat it out. I was excited to ski today for all the obvious reasons, and most of all, because today was the first day we were meeting up to ski with Jim, our Mountain Collective buddy I met last year at Alta.
Flashback to February 10, 2016... 1der was again in the ski shop, getting his new boots tweaked. Did I mention AGAIN??? I continued skiing alone. I was about to sit on the chair, and suddenly this person skis on and sits down. A big, friendly hello from Jim, who lives in Colorado. At the end of the lift ride, we decided to ski together for the rest of the day.
Jim is a 30-year law enforcement professional, and he loves to ski. Unfortunately his wife doesn't ski much anymore, so he hit the road by himself. Jim skis a lot. The dude has three ski passes! He was just finishing up his Mountain Collective Tour, but he was going in the reverse direction as us. He started in Jackson Hole, then went to Sun Valley and Alta. His last stop before going home was Aspen. It was his first day in Alta and our last. We were leaving that night for Aspen and just starting our five-week tour.
We said our goodbyes and agreed to meet for dinner in a few days in Glenwood Springs on his way in to / our way out of Aspen. Dinner was great, and we stayed in touch all throughout the off-season, talking about how we were going to meet up again this year.
Meeting Jim was Life's Magic in play!
Last night, Jim joined us and T-Bone for dinner, and it was really great to see him again. Jim has a fantastic, upbeat attitude. So not what you would expect from a 30-year law enforcement professional who has seen enough to make him the most jaded guy on the planet. This is not the case with Jim.
Back to today... Initially, the plan was for me and Jim to meet up with Rich and his friend to hike up and ski Highlands Bowl. Unfortunately (or fortunately?), Jim and I got separated from Rich, which enabled us to have a chance meet up with Terry and take a couple runs with him. Niiiice.
Terry took me to the ski patrol hut at the top of the Loge Peak chair to purchase a strap for carrying skis while hiking the bowl. Four patrolmen were in the hut, and I proceeded to tell them my Daddy's story and how much I revere and appreciate all patrollers, on all mountains. One particular Patroller in the hut, Marlon, was so kind, and he presented an amazing offer: he would like to personally accompany me and 1der on the hike up to the bowl and the ski down. I was floored and humbled. Wow, wow, wow. Unfortunately today was not the day to go up to the bowl as it was blowing and snowing really hard. The hike would have been extremely difficult and dangerous, and the ski down would have been very dicey as well. No worries, though, Marlon's offer is standing for whenever we come back. Another Life's Magic Dance moment. Truly amazing. Thank you, Marlon, and thank you, Daddy, for making this encounter possible.
Terry left to teach a private lesson, and Jim and I had a blast skiing in the stormy weather. This was a great way to kick off the next few weeks of skiing together.
At lunch, we met up with Rich, and we spent the rest of the afternoon on Kessler and Soddbuster. Lots of great, fresh snow. Super fun. Another awesome day on the slopes!
These skis, which were parked right outside of Highlands Alehouse, were quite the attention-getters / laugh generators.
Tonight was our last night with our local Aspen friends, and it was a treat to, once again, sit at their table and share a meal with them. It truly is a pleasure to spend time with this family; fantastic parents who have done an awesome job raising two delightful, intelligent, well-mannered, respectful, engaging girls.
Many many thanks again for their hospitality, and for letting us "plug and play." We look forward to seeing them next year!
Sweet Felini.
---
Leave a comment
Comments will be approved for public display.